NEW CLUSTER LAUNCH BY DOSTI REALTY AT DOSTI GREATER THANE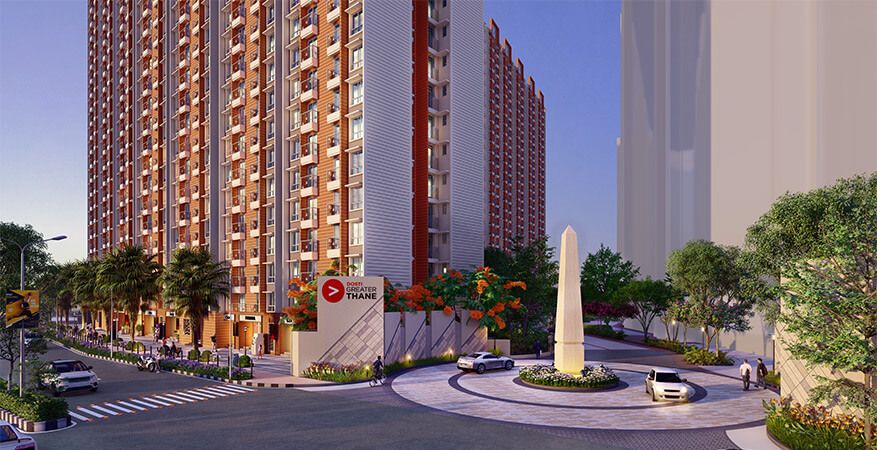 Dosti Realty has been the flag-bearer of residential growth and unlocking the potential of 'NEW' locations. After transforming the skyline of Mumbai and Thane, the brand has shifted its focus to the neighbouring areas of Thane.
After the successful launch of Dosti Greater Thane – Phase I in Kalher which witnessed a thunderous and ground-breaking response generating 20,000+ enquiries, 15,000+ walk-ins and a record breaking 1,750+ bookings over a span of just 11 days, Dosti Realty is back to cater to the needs and aspirations of home buyers at an extremely attractive price point.
Dosti Realty has now launched a new cluster at the well-known Dosti Greater Thane located at Kalher which is just 7 kms from Viviana Mall, Thane and just 4 kms from Balkum, Thane. This new cluster comprises 1 BHK homes with a RERA Carpet of 24.98 sq.mtr. (269 sq.ft.) and a Usable Carpet of 31.50 sq.mtr. (339 sq.ft.) at an attractive price of just Rs 34.40 Lakhs as an all-inclusive price. Whats more is that for a limited time only the price is the same no matter which floor one buys.
The project Dosti Greater Thane is the first well planned gated community in the Kalher location and will be developed in Phases. It has been designed by the renowned Architect Hafeez Contractor and will include a proposed ICSE school and a 1 Lakh sq.ft. private Clubhouse house which are also being planned in the vicinity of the project. The project will also have high street retail shopping, so ones everyday needs will be taken care of within the complex itself. The Dosti Greater Thane layout has been designed to create a balance between nature and lifestyle, with 70% green open spaces and will have 1100+ trees. The project will also lead by example in terms of building environmental consciousness due to various green features.
Commenting on the project launch Mr Anuj Goradia – Director, Dosti Realty says "The year 2020 & 2021 has highlighted the importance of a well-planned home with facilities. We realised there is still high demand for a quality product. This is a large scale gated community that we plan on developing and we hope to keep pushing the limits with each new cluster we launch."
Ms Shraddha Goradia – Director, Dosti Realty adds "Given the fact that Dosti Greater Thane is just 4 kms from Balkum, Thane (W) but offers prices much lower than Thane, it is accessible to a much larger group of home buyers who desire a quality lifestyle in the Mumbai Metropolitan Region but have kept away due to high prices. Buying a home is always a good investment and owing a home is a dream for most people. The brand name Dosti Realty plays a significant role especially in selling an under construction project."
Mr Nitin Nagpal – Director Sales and Marketing, Dosti Realty comments "We are adopting a simple marketing approach that highlights some of the USP's of the project namely location, amenities, construction quality and price. Another plus point for Dosti Greater Thane is the proximity of the Metro Line 5 which will have the Kalher station just outside the project. Overall, Dosti Greater Thane is the ideal proposition for serious home buyers and investors alike who are in the pursuit of an amplified livability index and ROI prospects."
Strategically located in Kalher, the project lends prospective buyers a chance to own a home in this high growth corridor. Given its proximity to Thane and with numerous locations radiating around it, it will soon become a prime spot for home investors alongside topping the charts for retail, commercial and warehousing spaces. It is expected to witness a significant scope for future capital appreciation and rental income. The under-construction Metro Line 5 (Thane-Bhiwandi-Kalyan) passes the project with Kalher station just outside, while the proposed Mumbai-Ahmedabad bullet train will pass through the project land bank.
Once the entire project is completed it will have a host of indoor and outdoor amenities for residents. Dosti Club Novo the private clubhouse* spanning over 1 Lakh sq.ft. will include a Lap Pool, Kid's Pool, Jacuzzi, Aqua Gym, Half Basketball Court, Tennis Courts, Amphitheatre, Jogging Track, Kids' Play Area, Skating Area, Cricket Pitch, Futsal Court, Orchard Walk, Restaurant, Video Games, Badminton Courts, Billiards, Music Room, Table Tennis, Gymnasium, Carrom & Cards Room, Spa, Mini Theatre, Banquet Halls Guest Rooms. Outdoor Gyms, Interactive Seating, Senior Citizen's Seating, Amphitheatre, Volleyball Court, Multipurpose lawn, Gazebo seating and more. So there is something for all age groups to enjoy.
Besides each cluster will have its own set of outdoor amenities. The outdoor amenities within the new cluster include a jogging track, multipurpose lawn, seating areas, kids play areas, gazebos, an amphitheatre, lawn, multipurpose court, floor games, outdoor gym and skating rink.
Other planned infrastructural developments that will lend impetus to this location include Metro lines 4 and 10, Virar Alibaug Multi-Modal Transport Corridor, Thane Borivali Tunnel, Thane Waterways, RO-RO waterways, and CST-Thane underground railway line, Thane- Dombivali Bridge, Proposed Eastern Freeway Extension from Chembur to Thane and Proposed Coastal Road from Balkum to Gaimukh are all set to enhance transport linkages in this belt. The government's efforts in pursuit of scaling up infrastructural projects in and around Thane have contributed to a strategic escalation in the price structure for properties in this area. Thane and the Greater Thane locations which were once considered industrial hubs, has evolved into a multitude of warehouses, logistics centres and residential developments. Be it widening of internal roads or construction of flyovers to connect Thane and the surrounding areas like Kalher, Kasheli etc to its neighbourhoods, several tangible steps have been taken to enhance the area's connectivity.
With an unmatched infrastructural boom combined with promising real estate prospects. The future is playing a major role in accelerating the valuation of Thane and its surrounding locations of Kalher, Kasheli etc making it one of the best times to invest in these locations.
About Dosti Realty
Dosti Realty has been in the real estate business for over 4 decades and delivered more than 127 properties to date, encompassing a portfolio of over 11.44 mn. sq. ft. Currently Dosti Realty is constructing around 6 mn. sq. ft. across Mumbai and Thane. Till date it has sold homes to 15000+ happy families and continues to transform the skyline with its developments. The company has experience in various development types, be it Residential, Retail, IT Parks, etc. Over the years, it has been known for its Aesthetics, Innovation, Quality, Timely Delivery, Trust and Transparency, values that have built lasting relationships.
Dosti Greater Thane – Phase 1 is registered under MahaRERA No. P51700024923, DGT – Sector 3A – Cluster 2 – Phase 1 is registered under MahaRERA No. P51700048334, DGT – Sector 3A – Cluster 2 – Phase 2 is registered under MahaRERA No. P51700048335, DGT – Sector 3A – Cluster 2 – Phase 3 is registered under MahaRERA No. P51700048333 and are available on website – https://maharerait.mahaonline.gov.in under registered projects. Dosti Greater Thane – Phase 1 is funded by Kotak Mahindra Bank Ltd and Dosti Greater Thane – Sector 3A – Cluster 2 – Phase 1, 2 & 3 is funded by Kotak Realty Fund. Dosti Club Novo is a Private Club House in the vicinity of Dosti Greater Thane projects. *The right to admission, use and enjoyment of all or any of the facilities/amenities in the Dosti Club Novo is reserved by the Promoters and shall be subject to payment of such admission fees, annual charges and compliance of terms and conditions as may be specified from time to time by the Promoters. Please note that sale/lease of all premises in these projects shall be governed by agreement for sale/lease. T&C Apply.